In recent years, customers demand for shorter development-to-shipment times, and the increasing complexity of electronic devices, has made failure analysis an extremely difficult discipline. Consequently, evaluation of basic failure mechanisms must begin in the development phase, with the verification of product reliability, various life and environment tests, ensuring specification and quality reliability to meet customer requirements. With the ever-increasing requirements for part and device reliability, the need to evaluate product lifetimes and failure rates quickly is now greater than ever. Therefore, Foxlink's endeavor to provide our customers with the safest and most reliable products possible is to establish world-class testing laboratoreis, which certificated by international associations such as China National Accreditation Service for Conformity Assessment (CNAS) and international leading companies.
Foxlink laboratory can perform test with reference to Chinese GB Simplified, International Organization for Standardization (ISO), International Electrotechnical Commission (IEC), Military, Electrical Industries Association (EIA), Japanese Industrial Standard (JIS), US Environment Protection Agency (EPA), Europe Union Standard (EN), American Society for Testing Material (ASTM).
Chemical Analysis of Environmental Banned Substances
a. RoHS:
Lead and Lead Compounds
Cadmium and Cadmium Compounds
Mercury and  Mercury Compounds
Hexavalent Chromium and it's Compounds
PBB
PBDE
b. Fire Safety Research Test of Material:
Flammability Test
Halogen Content Test
Oxygen Index Test etc.
c. Heavy Metal Test: Ba.Pb.Cd.Cr.Se.As.Sb.Hg. etc.
d. Other Organic Substances
Reliablity Test
Mechanical Test
Life Test
Environmental Test
Electrical Test
High-frequency characteristic measurement
HALT /HASS/HASA
Electromagnetism compliance testing ESD & EMI Consulting
Instrument and Equipment calibration
Voltage, Current, Frequency, Resistance, Capacitance Tester's Calibration
Length, Height Tester's Calibration
Force Tester Calibration. etc.
Wireless Technical Center
a. Wireless Testing:
2D & 3D Antenna Pattern
2D & 3D OTA (2G, 3G, 3.5G Available)
b. Spurious Testing, Pre-EMI Testing 700 MHz ~ 6GHz
c. SAR Testing & Debug
Mobile Phone/ Wireless LAN
d. HAC Testing
e. RF Design Support
Wireless Debug (Spurious & EMC & Sensitivity)
Acoustic Laboratory
a. Test Environment
Anechoic Chamber
Simulation Room
Wind Tunnel
b. Test Items
Component Performance Test
System Performance Test
Sound Pressure / Power Test
Metal Laboratory Test Service
a. Test Instrument
Microstructure analysis

Laboratory: OM
Others: SEM/EDX, ICP, DSC, TGA, X-ray, TEM etc.

Mechanical properties testing

Laboratory: Tensile testing
Others: Hardness, Bending formation testing etc.

Physical properties testing

Laboratory: Electrical conductivity meter, Rheometer
Others: Magnetism (VSM), Thermal expansion (Dilatometer ) etc.
b. Inspection platform
Microstructure analysis

General Metallurgical observation
Grain size observation
Phase Transformations observation

Metal composition analysis

Quantitative / Semi-quantitative analysis
Qualitative analysis

Mechanical & physical properties testing

Hardness, Tensile properties, Bending formability, Electrical conductivity, Magnetism, Thermal expansion etc.

Failure analysis

Stamping process
Electroplating process
SMT process
Others (MIM etc.)
Total Quality Management
The achievement of Foxlink is relying on the level of service that we can provide to our customers.One of the ways that we provide this high level of service is through comprehensive quality system.This quality system supports Foxlink's initiatives of product innovation, cost-effective manufacturing and superior customer service.
Quality Policy
Foxlink has instituted a comprehensive quality assurance program to ensure the implementation of its firmwide quality policy. This policy rests on four principles, namely customer first, utilization of leading technologies, systematic quality processes; and employee participation.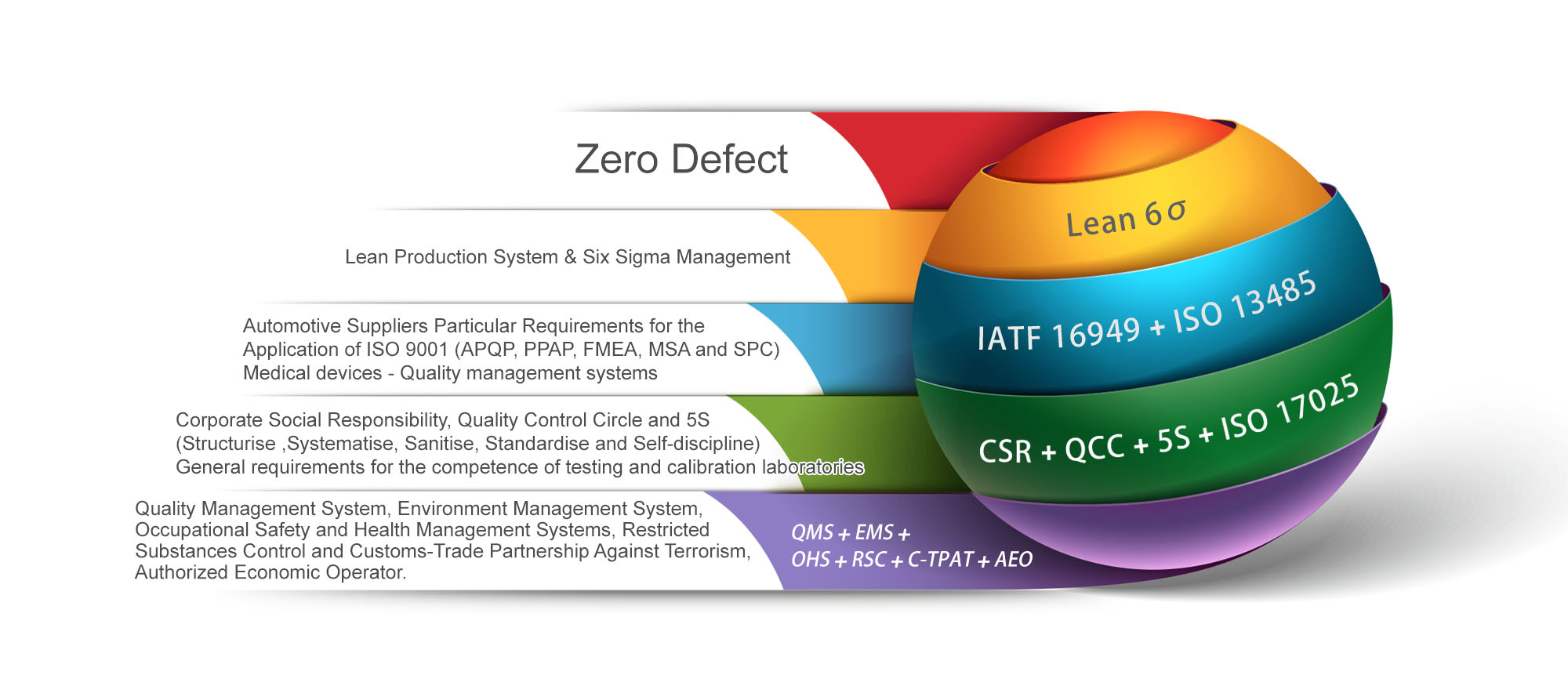 Quality & SER Management Structure
Quality System
Foxlink believes that through rigorous implementation of the quality assurance program, it has been able to achieve a reputation for consistently high product quality, and that this reputation is an important competitive advantage for retaining existing customers and attracting new customers among industry leaders in the communications, computers and comsumer electronics industries.
Hazardous Substance Management
Foxlink is active in implementing the Green Product policy to align the purchase and use of green products that meet international environment protection requirements. To be in compliance with various global environmental protection directives – such as RoHS, WEEE, Foxlink has developed strict standards to ensure that the components and raw materials do not contain hazardous substances. With the QC 080000 standard, we implement a Hazardous Substance Process Management (HSPM) system and cover the key requirements of the various EP directives.
Our policy for achieving and maintaining compliance to the HSPM is outlined below:
Foxlink continues to monitor changes in the Directive to ensure that our products continue to comply with the latest requirements.
Foxlink requires all new products to comply with RoHS by stating this objective in the design objective specification.
Foxlink evaluates and tests the alternative materials in order to replace heavy metal material.
Foxlink Procurement policy and procedures require all subcontractors and suppliers to be RoHS compliant for products to Foxlink.